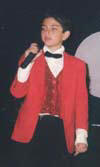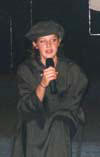 Does your child want to be the next "American Idol"? Now you can give them the tools to accomplish this goal…
Let our professionally-trained vocal staff work with your child in all aspects of voice including reading sheet music, pitch, music theory, vocal projection, building a musical theatre repertoire, proper vocal technique, voice placement, and much more.
Our private voice lessons will give your child one-on-one attention with professional voice teachers. Whether your child is a beginning vocalist or an experienced singer our teachers have expansive professional resumes that will give your child or teenager the basic vocal instruction they need as well as providing a challenging curriculum for more advanced students.
Costs for the individual sessions are $25 per half hour lesson. Each session runs for a total of 12 weeks and culminates in a voice recital where you can see just exactly what your child has learned. Please consult our offices about the starting dates of each voice session.